Digital Folders
Grant Company-Wide Access with Digital Folders!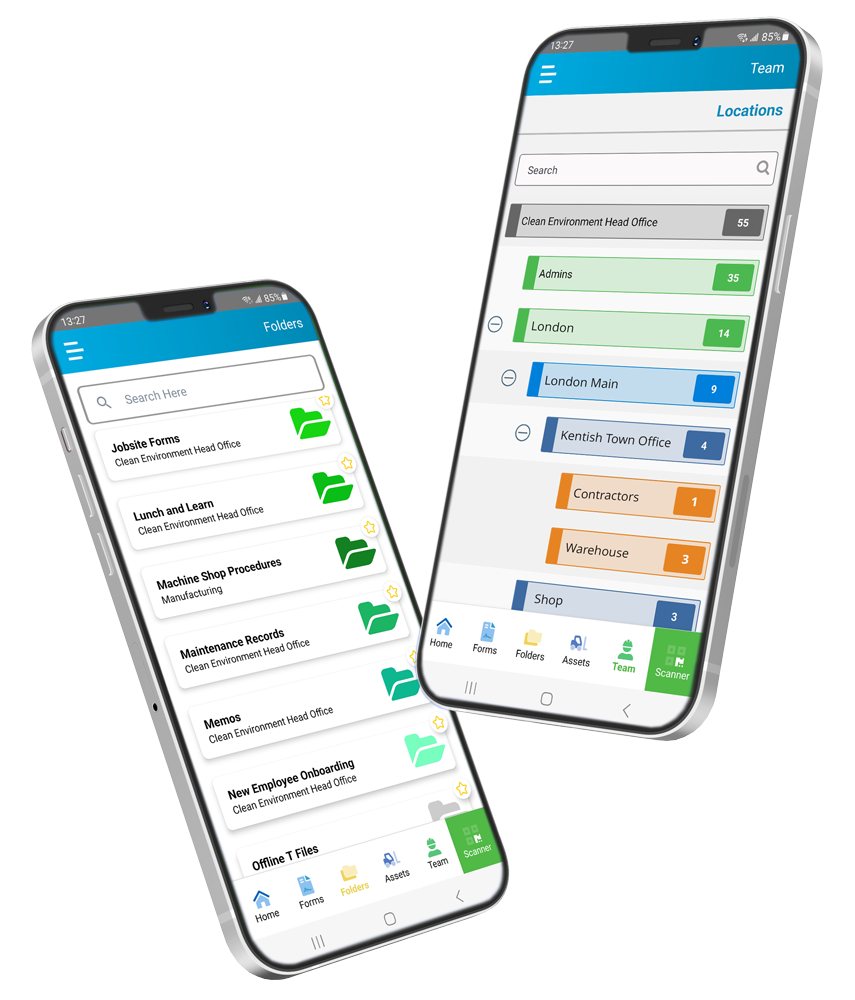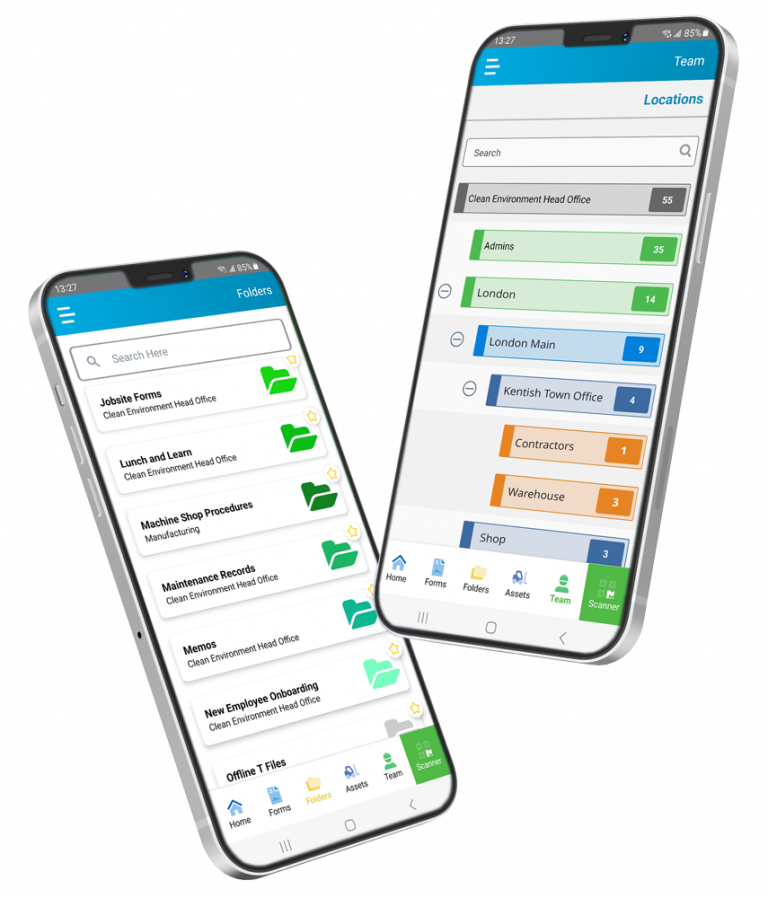 Keep your important documents secure and accessible with BIStrainer's digital storage system. Just like folders on your computer, you can upload multiple files and documents to a cloud-based storage space for your team. This convenient software allows your employees to easily access company files, track acceptance and sign-off, and receive automated reminders for document expiration and reassignment.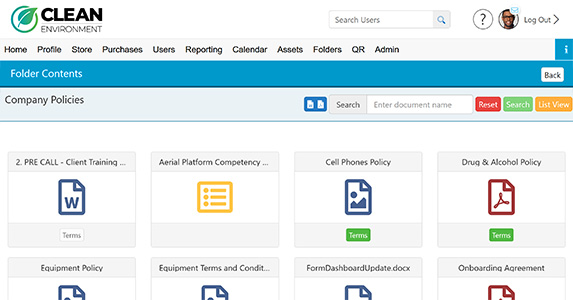 When you set up your folder, you'll be able to easily share important files like Microsoft Word documents, PDF policies or procedures, Excel spreadsheets, and even interactive digital forms. It's a breeze to upload all the necessary documents, and you can personalize the rules for each one. Plus, you can decide who gets to access and edit them, determine if a digital signature is required, craft the perfect affirmation statement, and much more. If you ever need advice on the best way to automate processes just reach out and our team is ready to assist you!
With our sophisticated permission management system, administrators have the ability to allocate precise user access levels to team members and new hires. Using the Assignment Type Selectors, you can easily assign a folder based on location, job position, company role, or even a combination like Company Location and Company Role (e.g. White Castle and all Crane Operators). By doing so, the assigned folder will promptly appear on the employee's home page under the Training tab, in the Assigned section, allowing them to conveniently access it.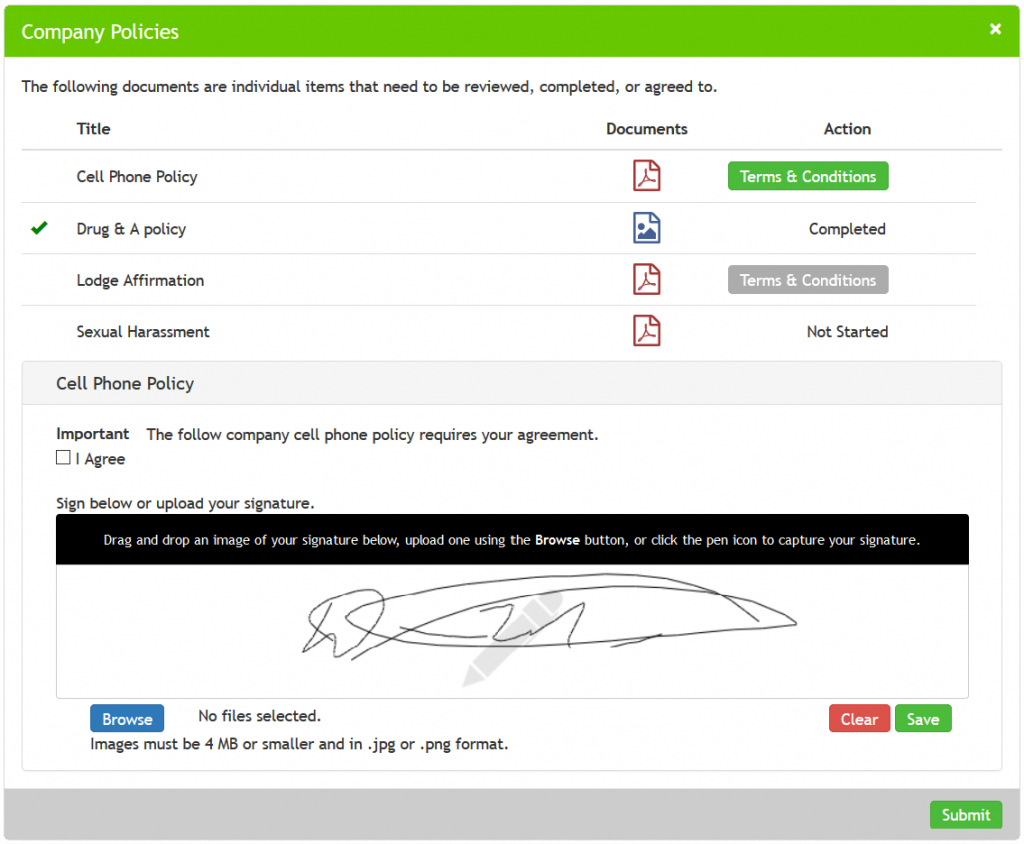 Our user-friendly software for signing off on policies and procedures allows employees to easily access Word, PDF, or Excel documents. With just a click, they can open the document, review the Terms & Conditions, confirm their agreement, and digitally sign off on the company policy.
Once employees have signed off on the forms assigned to them, the folder containing the documents moves to the In Progress section on their homepage. As they complete the signing process for all the required forms, the folder automatically transitions to the Completed section.
If a document is updated or expires, the folder is promptly moved back to the Assigned section, notifying the user of the new sign-off requirement. After the employee has signed off on the updated document, the folder returns to the Completed section.
Our document management feature also includes comprehensive reporting capabilities. You can generate detailed reports for each document, as well as summary reports for the entire company. Furthermore, you have access to individual reports that specify which forms a particular user has signed off on and which forms are still pending.
The best part is the ability to highlight any updates in a new document. If the company makes changes, you can ensure that users are prompted to open it, read the changes, have them highlighted, and then request their signature once they have completed the review. This compliance-oriented system enables employees to quickly identify specific changes in workplace health and safety documents, while also providing them with complete access to the document for thorough review and tracking of their agreement.
Some of the Great Companies Who Use the BIStrainer System