Competency Assessment Software
Competency Assessment Software
Make sure your employees are competent not just trained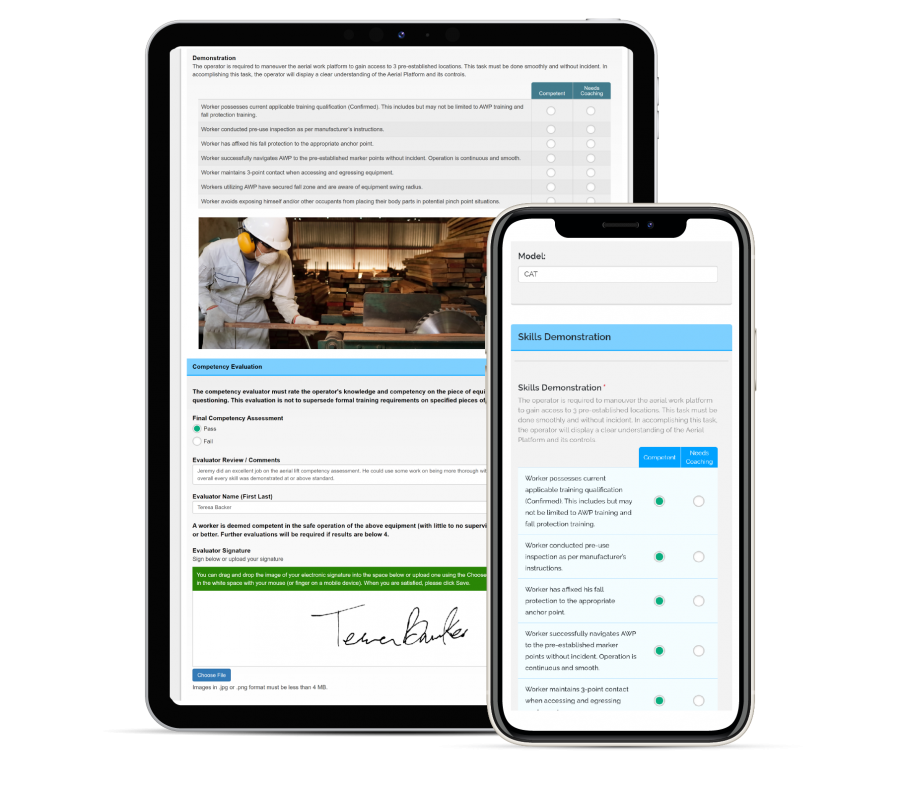 Competency assessments help your company:
Reduce overall risk
Improve efficiency
Confirm the right person for the job
Enhance the quality of the end product
By implementing competency validations and a performance tracking system, ensure your employees possess the real-world skills needed to prevent high-risk situations. Higher competency levels lead to safer workplaces, less property damage, and fewer legal issues. These evaluations are also crucial for addressing weaknesses and highlighting strengths, enabling tailored training for individual needs. Plus, skilled employees perform better, make fewer mistakes, and increase the quality of the end product. Assessing worker competency also boosts employee engagement, resulting in 70% fewer workplace incidents.
Safety harnesses for working at heights
Respiratory protection
Fire extinguishers handling
Handling hazardous materials
First aid equipment usage
Eye protection awareness
And more!
Assessing equipment proficiency:
Assess your employees' skills before operating company equipment, including:
Forklift operation
Driver competency evaluation
Scissor lifts and aerial lifts handling
Excavator operation
Platform truck operation
Compactor usage
And more!
Assess Employee Competency Now
Prevent accidents and downtime by assessing staff competency. Training is just the beginning of a strong safety culture; competency assessments allow you and your team to rest assured you have what it takes.
To get started, follow these three simple steps.
For many organizations, ensuring worker safety skills are adequately taught is crucial. In high-stakes situations, assessing workers' competency becomes even more important. Our Competency Assessment system, powered by Digital Forms software, allows your business to evaluate these skills effectively. To maximize its benefits, pair this system with our Learning Management System and Training Record Management modules, providing your employees with essential information and training.
Ready to Streamline Competency Assessments?